Leadership
Good Businesses Start with Good Leaders
Chris Caffey
CEO
Chris began his career in the beer business in 1975 at the ripe old age of 10. His Saturdays were spent sweeping the warehouse and doing other similar duties. At age 12 he found himself working summers as a delivery helper. After becoming licensed to drive, his summers were spent merchandising and as a delivery helper. Chris began his "full time" career in 1986 and has worked in virtually every area of the business, becoming President & CEO in 1994. He has served on numerous supplier councils, the board of directors of the North Carolina Beer and Wine Wholesaler's Association, and the National Beer Wholesalers Association where he served as Chairman.
Chris earned his bachelor's degree from Guilford College and a master's degree from Wake Forest University.
Chris sees his role (President and CEO) as ensuring the long-term success of the company; and ultimately, responsibility for the 400 families who are a part of our team at CPB and CDC. He thrives on our business success and the pursuit of excellence.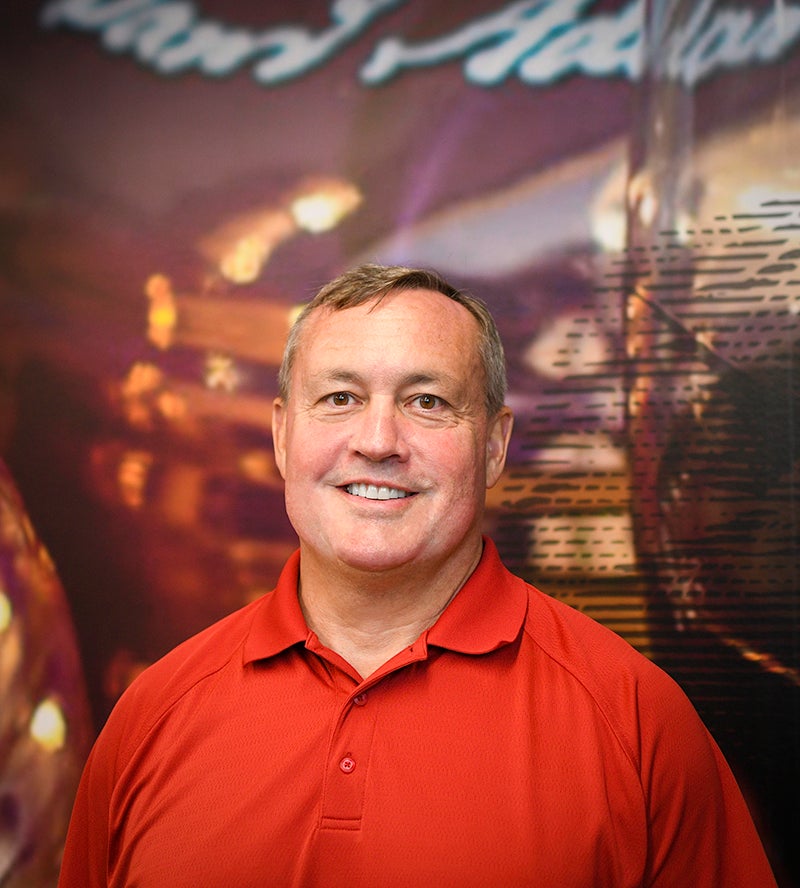 Mark Bowman
President
Mark joined our beer family in 2010 working in the warehouse as an order selector. After his experience in the warehouse, he went on to hold positions in Merchandising and Reset Management. In 2015, Mark joined the Chain Account Management team where he built relationships with our key retail/supplier partners and secured the role of Set Adviser for Lowes Foods. Mark worked with our Brand Management team to develop brands and processes that would optimize our domestic portfolio with MillerCoors, Yuengling, Pabst, Phusion, and Crook & Marker.
In 2015, he earned a bachelor's degree from the University of North Carolina at Greensboro, Bryan School of Business. Mark completed his master's degree at Wake Forest University.
He has a passion for our business and its employees which makes Caffey Distributing feel like home.
Bill Richardson
CFO
Bill started with our beer family over 25 years ago as the controller for Caffey Distributing. He was able to grow from that position and became the CFO. In the role of CFO, Bill was able to help brand Caffey Distributing to what it is today. He now holds the position of CFO. He is currently a part of the Generations Insurance Group, where he has been Chairman and President, and the ASU Alumni Corporate Committee.
Bill was awarded a bachelor's degree from Appalachian State University. He then continued his education and received a master's degree from The University of North Carolina at Charlotte. With these accolades, he was able to become a Certified Public Accountant (CPA).
Bill has given a lot to our family, and with his financial and operational guidance, these two companies continue to be among the top distributors in the country.
Rick Stell
Vice President Revenue Management
Rick originally started in the wine industry with E&J Gallo Winery for 19 years. It is there he first gained vital supplier and wholesaler experience which allowed him to lead the industry in his Chain Manager and Sales Manager roles in the Dallas and Tampa areas.
Since then Rick has been an imperative part of our company for over 20 years and has assumed integral positions as a partner to Diageo, Heineken, and MillerCoors on their Supplier Advisory Boards. Rick is currently using his wealth of knowledge to manage all of our brands.
Rick gained his bachelor's degree from the University of Texas at Arlington. That, with his 38 years of industry knowledge, has allowed him to become an integral part of our company and our brands.
Josh Ezrine
Vice President General Manager
Josh joined the Caffey family in January of 2014 as a salesman for the Convenience Store Division. After his experience as a salesman, Josh was promoted to Area Sales Manager and Emerging Market Chain Account Manager. He has built key relationships with CVS, Rite Aid, Walgreens, Family Dollar and Dollar General. Josh was recently promoted to VP/GM of our Caffey Family.
After college, Josh started in the beer business by owning and managing a bar and a restaurant. He has been in the industry for almost 20 years. Josh earned his real estate license, and currently owns a real estate company with his brother and father.
Aaron Caffey
Vice President
Aaron started working for the family business in 2013 as an order selector for the warehouse. Soon after, Aaron worked as summer help in our Merchandising and Delivery Departments. In 2016, he was a graduate of the company's Inaugural Beer Scout Program and started working as a Draft Tech in our Fresh Tap Division. In late 2017, he started an internal executive development program, which led to his position of Assistant General Manager in 2019. Shortly after, Aaron gained additional responsibility by becoming the Director of Facilities. Aaron recently elected to serve on the Board of Directors as the NC Representative for the National Beer Wholesalers Association.
Aaron holds a Bachelor's Degree in Business Administration (B.B.A.), with a focus on Organizational Leadership and Management from Greensboro College. Aaron is a proud alumnus of Phi Delta Theta, Alabama Alpha Chapter, University of Alabama.
Aaron is certified by The Center of Creative Leadership for completion of their Leadership Development Program, certified by The Predictive Index as a PI Master Practitioner, certified by The Wharton School for completion of Business Analytics, and is a Cicerone Certified Beer Server.
Mickey Williard
Vice President Business Development
Mickey joined the Caffey family in 2020 as a Business Analyst. After his first year, Mickey was accepted into our Executive Leadership Program, where he was able to cross-train with our Executive Team and learn the day-to-day operations of our Greensboro and Charlotte Facilities. Upon his completion of the program, Mickey was promoted to his current position, VP Business Development.
Mickey started his career in beer with us, but before joining our family, he graduated from High Point University and went on to work for Williard Investment as their COO. Mickey is currently completing his MBA from Wake Forest and is set to graduate in 2023.
Scott Schaefer
General Sales Manager
Scott began his career in the beverage industry in 1986, with the E & J Gallo Winery. After completing their prestigious Field Marketing program, he was able to work his way up and was promoted to Sales Manager. This is where he sharpened his sales and management skillset and established himself as a leader. He was elevated to Sales Manager at three different Gallo wholesalers, taking on added responsibility with each position.
The valuable experience Scott gained at the renowned winery provided him the opportunity to join the Caffey family in 2001, where he now holds his position as Sales Manager. He loves working with the Caffey team and their multiple suppliers and wholesalers. Developing strong relationships is the foundation of everything he does, both professionally and personally. Scott's passion runs deep, and he strives to build a culture of teamwork, respect, and collaboration. He has been honored to lead a sales team that continues to be recognized year after year as best in class.
Scott earned a bachelor's degree from the University of Florida.
TJ McQuade
Large Format Divisional Sales Manager

TJ began his career at Caffey Distributing in 1985. He started on the refrigerator draft truck delivering kegs to our on-premise accounts. TJ has held the positions of Sales Consultant, On-Premise Manager, and Grocery Sales Consultant. He is now Sales Manager over our Grocery Division.
Alicia Tatum
HRBP

Alicia brings over 4 years of Human Resources experience to the Caffey Team. She previously worked at the Tanger Outlets Corporate Office in Greensboro, where she was the HR Generalist supporting roughly 600 employees. Prior to working with Tanger Outlets, Alicia held three positions at CRG Corporation: Recruiting Administrator, Recruiting Manager, and Payroll Specialist.
Alicia attended High Point University where she obtained a degree in Business Administration with a minor in Marketing in 2016. One year later, she completed her Master's Degree in Business Administration with a focus in Sales Leadership from High Point University. Alicia has a passion for people and leaving a positive impact on every person that walks in her office.
Jeff Spaugh
General Market Divisional Sales Manager

Jeff began his career in the beer industry as a delivery driver for Coastal Beverage in Florida. A graduate of East Carolina University, he returned to his NC roots in 2002 and came to work for Caffey Distributing as a driver in the convenience store division. Jeff took advantage of the generous career training Caffey offers and was able to gain various skills and knowledge as he worked his way up through the company.
He's held positions as driver, sales consultant, and area sales manager and has been our On-Premise Division Manager since 2012. In this position, Jeff supervises sales and account management for on-premise accounts as well as large venues, special events and festivals. He continues to lean on his previous focus on training to prioritize the same for his team. Jeff consistently encourages and drives the on-premise team to be competitive using innovative tools and training. Jeff is a Certified Cicerone and his passion for beer and relationships has proven to be a valuable asset to the growth of our organization.
Lexi Dotson
Talent Acquisition Manager

Lexi joined the Caffey family in 2021 as a Recruiter. Throughout her time here she has cross trained in every department to gain knowledge on all our positions held here at Caffey Distributing. At the beginning of 2022, Lexi was promoted to our Talent Acquisition Manager. In her role, she oversees both recruiters here at Caffey Distributing as well as Carolina Premium Beverage.
Lexi started her career in beer with us, but before joining our family, she attended Dean College in Massachusetts where she studied Dance. She continued her dance career and danced for the Boston Tap Company before moving down to North Carolina to work for Hilco Transport as a Processor. At Hilco Transport, she was promoted to Recruiting for their mechanics and loaders. Soon after, she decided to start her career in beer and joined our family!
Darin Whitaker
Operations Manager

Darin began his career in beer as a Caffey Delivery Driver in 1994. Darin took advantage of the generous career training Caffey offers and was able to gain various skills and knowledge as he worked his way up through the company.
He's held multiple positions throughout his career including: Delivery Driver, Key Account Manager, Division Sales Manager, Craft Brand Manager, and Fresh Tap Manager. Darin has built a key foundation for our prestigious Fresh Tap program throughout the years. In 2021, Darin was promoted again to Operations Manager, while also overseeing our Fresh Tap Program.
Get in touch
For more information on how to work with us, contact us today.